---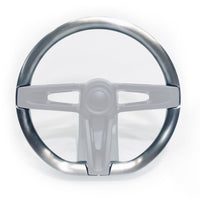 Our Smooth Grip for our 'Muscle Series' steering wheels, is designed for a timeless look while embracing a modern profile diameter and full leather wrap to have the same feeling of luxury grand touring cars. 
Because of our innovative, multi-piece steering wheel design, our modular grip ring can easily be changed between grip styles with ease. You can have the 10/2 Hump, alcantara wrapped grip installed for autocross and within moments, have a Smooth Grip with leather wrap ready for the big car show!
Grip option is included with purchase of a 'Muscle Series' D-shape steering wheel. Standard option is machine finish. Grip upholstery is available upon request.
Fits: