---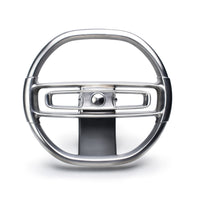 Starting at $1,475.00
MADE-TO-ORDER PRODUCT
Our goal is to have all product options in stock but currently have a varying lead time due to both demand and material supplier delays. We are currently trying to ship within 8-12

 

weeks but due to supply chain interruptions and depending on options, lead times could be longer.
LEAD TIMES DEPENDENT ON CHOSEN OPTIONS
Our Straight Side steering wheel is among the premier steering wheels offered on the market for its design and quality. A part of Sparc Industries 'Heritage Series', this series of steering wheel design is unlike any other offered on the market today. We want to bring to you design and quality of a one-off product without the one-off pricetag.
Featuring an integrated column adapter, the design was opened up to allow for deeper concavity of the spokes without compromising the overall size of the product.  Also, this design incorporates a grip that has both opaque and transparent options. This 14.5" inch steering wheel has many different finish and color options available. Give us a call if you would like to have a custom color combo to fit your specific needs.
To see our standard finish options, click here. Custom finishes available upon request.
Includes:
Steering Wheel
Grip Ring
Horn Ring
Horn Button Assembly
Column Adapter 
For more info or if you have technical questions, feel free to contact us by phone or email.
NOTE: Steering wheels are a made-to-order product and may take up to a couple weeks to ship. Refer to the Terms & Returns page for our return policy on made-to-order items.